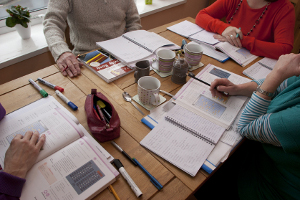 Classes are held in my big, bright kitchen in Brislington. Although we work hard, classes are friendly, informal and a lot of fun! The groups I set up are small, so you get plenty of individualised attention. To see if a course is right for you, click on the level for a description of the course content.
Enrolment
If you would like to enrol on any of the courses on this page, please give me a ring or send me an e-mail and I'll send you an enrolment form. We can also have a chat about which level is best for you. You don't have to have studied with me to join a course.
As well as the classes below, I have day-time slots available on Wednesdays from 2pm – 3.30pm and Thursdays 10am – 11.30am and 2pm – 3.30pm. So, if none of the classes below suit, contact me and I'll put on a day-time class for you.
Day: Wednesdays starting 11 September 2019. (Half-term Wednesday 30 October 2019).

Places available.

Time: 2.00pm – 3.30pm
Price: £180 for a 12-week course ending Wednesday 4 December 2019.
Textbook: Pasos 1 (Third or Fourth edition) and corresponding Activity Book
Rosa María Martín and Martyn Ellis
Hodder & Stoughton
(Available at Waterstones and Amazon UK)
Day: Thursdays starting 12 September 2019. (Half-term Thursday 31 October 2019).

Places available.

Time: 2.00pm – 3.30pm
Price: £180 for a 12-week course ending Thursday 5 December 2019.
Textbook: Pasos 1 (Third or Fourth edition) and corresponding Activity Book
Rosa María Martín and Martyn Ellis
Hodder & Stoughton
(Available at Waterstones and Amazon UK)
Day: Wednesdays starting 11 September 2019. (Half-term Wednesday 30 October 2019).

Places available.

Time: 10.00am – 11.30pm
Price: £180 for a 12-week course ending Wednesday 4 December 2019.
Textbook: Pasos 1 (Third or Fourth edition) and corresponding Activity Book
Rosa María Martín and Martyn Ellis
Hodder & Stoughton
(Available at Waterstones and Amazon UK)
Day: Thursdays starting 12 September 2019 (half-term Thursday 31 October 2019).

Places available.

Time: 6.30pm – 8.00pm
Price: £180 for 12-week course ending Thursday 5 December 2019.
Textbook: Pasos 1 (Third or Fourth edition) and corresponding Activity Book
Rosa María Martín and Martyn Ellis
Hodder & Stoughton
(Available at Waterstones and Amazon UK)
Day: Tuesdays starting 10 September 2019 (half-term Tuesday 29 October 2019).

Places available.

Time: 2.00pm – 3.30pm
Price: £180 for 12-week course ending Tuesday 3 December 2019.
Textbook: Pasos 1 (Third or Fourth edition) and corresponding Activity Book
Rosa María Martín and Martyn Ellis
Hodder & Stoughton
(Available at Waterstones and Amazon UK)

Day: Wednesdays starting 11 September 2019. (Half-term Wednesday 30 October 2019).

Places available.

Time: 6.30pm – 8.00pm
Price: £180 for a 12-week course ending Wednesday 4 December 2019.
Textbook: Pasos 1 (Third or Fourth edition) and corresponding Activity Book
Rosa María Martín and Martyn Ellis
Hodder & Stoughton
(Available at Waterstones and Amazon UK)

Day: Tuesdays starting 10 September 2019. (Half-term Tuesday 29 October 2019).

Places available.

Time: 10.00am – 11.30am
Price: £180 for a 12-week course ending Tuesday 3 December 2019.
Textbook: Pasos 2 (Third or Fourth edition) and corresponding Activity Book
Rosa María Martín and Martyn Ellis
Hodder & Stoughton
(Available at Waterstones and Amazon UK)

Running Saturdays from 10am – 12pm (to 1pm on the last day of the course).

Price: £125 which includes course booklet and home-cooked tapas lunch on the last day of the course!

Dates for 2019/2020:

2, 9, 23 and 30 November 2019

Places available.

6, 13, 20 and 27 June 2020

Places available.

See also more information about course content and student comments.

Enrolment

If you would like to enrol on any of the courses on this page, please give me a ring or send me an e-mail and I'll send you an enrolment form.

Save