Bristol Spanish was set up in June 2009 and is run by Rosana Jacks Teira. She offers Spanish tuition and cooking workshops to small groups in Brislington.
Rosana's classes are particularly suited for you if you are interested in more than just the Spanish language as we have a whole range of cultural events and activities on offer — essentially a taste of all things Spanish!
So… whether you are looking to learn the basics to get by on holiday, master the language fully or just experience a bit of Spanish culture, here you will find lively, friendly classes where everybody feels at ease!
Spanish for beginners! I'm putting on a five-week course starting Friday, 23 February from 6.30pm – 8pm in the upstairs room at the Sandringham on Sandy Park Road. See courses for more details.
To be kept informed of events and new courses and workshops, subscribe to the mailing list.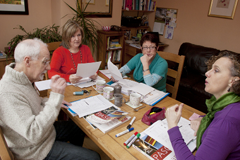 Save
Save
Save